Affiliate Disclosure: At BestCasino, we strive to match players with the best casino offerings. Because of this, some of the site links that are suggested are affiliate links. This means BestCasino will get a commission payment at no additional cost to you if you visit a website through our link and make a deposit. As a result of our editorial standards being created to be commercially independent and adhere to a professional methodology, all product reviews and suggestions continue to be unbiased.
Review
Without deposit
Deposit bonus
Rating
Play
Ad | 18+ | New UK customers only. Opt-in required. 20 Bonus Spins on "Sahara Riches Cash Collect" and 100% Deposit Bonus up to £25 on first deposit. Min. deposit £10. 30x wagering requirement for Bonus Spins and 30x wagering requirement for Deposit Bonus (game weighting applies). Max. £5/spin or £0.50/line or £10/round (Live Casino). 30 days expiry. Terms and Conditions apply.
Play responsibly
|
T&Cs apply
How does blackjack work?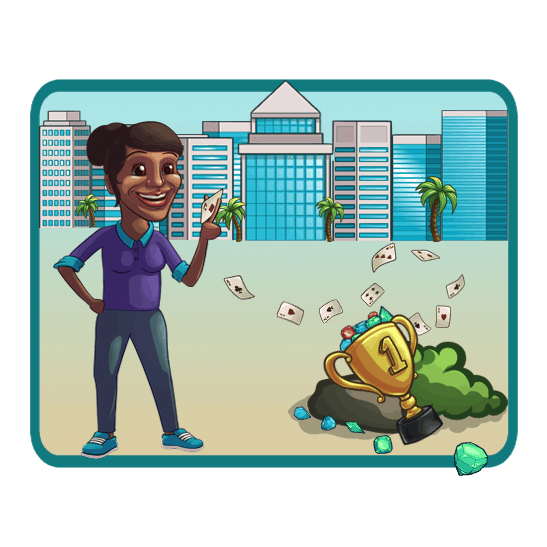 Before you start playing, you'll need to know how the game works, and the rules of blackjack are easy to learn. There are a few variations of the game, but we'll focus on the most common type in this guide. At the beginning of each round, the player places the bet and is dealt two cards face up. The goal is to get as close to 21 as possible without "busting" by getting a hand value that exceeds 21. At the same time, the player must also beat the dealer. The dealer also starts the round with two cards, but only one of the cards is visible to the player. The cards are worth their displayed value, but the royal cards (J, Q, K) are worth 10 points. The Ace is worth 1 or 11 points, depending on the value in the hand.
Once the player has been dealt the first two cards, there are several options available. If he has a good hand, he can stand to let the action pass on to the dealer. He can also hit to get dealt more cards until he achieves a hand value that he is satisfied with. The goal is to get as close to 21 as possible without being too greedy and going over. The key to success is knowing when to gamble by taking another card, and when to stand. The next action you take should always depend on the card that is revealed in the dealer's hand, as the dealer has a higher chance of busting with low and middle-value cards. The dealer must always stand on 17, and they must always take card until they have reached 17 or higher.
If you get a hand that is over 21, you automatically bust and lose your bet. But getting a hand value 21 with the two initial cards is called a blackjack. This happens when you get an Ace combined with a 10 or a picture card for a total value of 21. Getting a blackjack is always great, as it pays a win of 1,5 times the bet you placed. There are other ways of increasing the prizes and your chances of winning as well. Depending on the cards you are dealt, you will sometimes have the option to double and split. When you double, your initial bet is doubled, and one additional card is added to your hand. The split option becomes available when you have two of the same cards in your hand. For example, splitting two 8's versus a 7 is generally a good idea. Splitting turns the hand into two separate hands, and you can keep hitting or stand after receiving your extra cards.
Blackjack has a high RTP (Return to Player) percentage compared to many other casino games, but that depends on how well the player plays his cards. A common mistake made by newcomers is focusing too much on their own hand without taking the dealer's card into consideration. Each combination of cards has an optimal strategy, and with enough practice, you can intuitively know how to play the cards that you are dealt. A bit later in this guide, we'll show you how to play optimal blackjack so that you always make the correct decision.
Blackjack has been played in casinos all over the world for many decades, and the game has origins from the early 17th century. The modern version that we play today was made popular in the United States, and that is where the game got its name from. Players would win an extra bonus by getting an Ace of spades and a jack of clubs or spades, and the blackjack name stuck around although this version isn't played anymore. In the '60s and later decades, there were professional blackjack players who famously beat the game by counting cards. Beating the casino was easy as the game was only played with one deck of cards – but today, most brick and mortar casinos play with 8 decks of cards or more, making accurate card counting virtually impossible.
How to play blackjack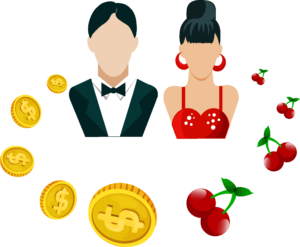 Now that you know about the background and rules of blackjack, you're more prepared to start playing. But before you take a seat at the table and get dealt your first hand, you should know the options you have available when you play. Blackjack is not a game that relies on pure luck, you also need to use strategy for a chance at winning. Of course, it is possible to be extremely lucky and get blackjacks after blackjacks, but most of the time you are required to know what to do to minimise the casino's edge against you. Below, we have listed all of the options that you'll have in front of you when sitting at the blackjack table. Many game variations feature side bets as well, but we'll cover those as well as the best strategies in the next section of the guide.
Bet: As with every casino game, blackjack requires you to place a bet at the beginning of each round. When you sit at an online blackjack table, you'll have your full casino account balance in play. Use the chips in front of you to adjust the bet that you want to place. Unlike high volatility games such as roulette and slots, most payouts in blackjack are worth between 2 and 3 times your bet. Many seasoned blackjack players prefer to bet a bit bigger than they do on other games for that reason.
Hit: Hitting is an essential part of blackjack, and it simply means adding another card to your hand. You are dealt two cards at the beginning of each round, and you can keep adding more until you reach 21 or bust. Of course, the whole point of blackjack is to know when to hit and when to stop once the hand reaches a favourable spot against the dealer.
Stand: When you stand, you won't get any additional cards and the action goes on to the next player or the dealer. You should stand whenever you have a good hand of 17 or higher, or when the dealer has a middle card that can lead to a bust. When you have a hand value of 11 or below, or a soft 17 or below, you should never stand.
Double: The more advanced blackjack strategies come into play with doubling and splitting. These options are only available when you have a certain card combination. If you choose to double, your initial bet of the hand gets doubled, and you are dealt one card only. You are not able to do any other actions after taking the extra card. Doubling is great for certain spots such as when you have a 10 or 11 against the dealer's 5 or 6.
Split: The split option is only available when your starting hand consists of a pair, such as two eights, two Aces or two deuces. When you split, the initial bet of the hand gets doubled, and the cards are split into two separate hands. If you split two eights that normally would have been a hand of 16, you now have two hands of 8 each. One card will be dealt to each of the two new hands, and you can play out the hands just like normal.
Insurance: Insurance only becomes available when the dealer shows an Ace. When you accept the insurance, you simply bet on that the dealer has a blackjack in his hand. If you are correct and the dealer actually does have a hidden 10 in his hand, you get 2 to 1 on your money. Insurance is regarded as one of the worst bets players can make, as the odds are vastly in favour of the casino. You might be right and win some extra once in a while, but taking insurance is a losing bet in the long run.
Knowing the basic strategy of blackjack is important, but getting good at the game requires a lot of practice. Keep reading, as we'll cover some advanced strategies and useful tips and tricks in the next part of the guide.
Blackjack strategy and useful tips
You don't need to be a math genius to have fun and win big in blackjack, but you do need to know a few basic strategies to stand a chance in the long run. In this part, we will take a look at a few of the things you should keep in mind when placing down your chips. In addition to covering some of the strategies that every advanced blackjack player knows, we'll give you some useful tips and tricks that can help you up your game.
When to hit and stand
Knowing when to hit and when to stand is the number one thing that new players struggle with. The general rule is to stand when your hand has a value of 17 or above unless it's a soft 17. The most important part is taking the dealer's card into consideration. If the dealer has a low or middle card such as a 4, 5 or 6, you should stand on every hand above 11 – even if you have a 12. The reason is that there is a good chance the dealer has a 10 as his second card, making a bust quite likely.
When to double
You should only double when you can get a good hand with one more card. The general rule of thumb is that you only should double when you start with 9, 10 or 11, as these hands have a high chance of giving you 19, 20 and 21. However, the dealer's card is just as important as your own. Doubling a 9 versus a 10 is a terrible idea, as the dealer easily could have a 20. The best possible scenario is doubling an 11 versus a 5 or a 6.
When to split
Splitting is only available when you have a pair in your starting hand. Some hands, such as deuces, sevens and eights are regarded as essential splits versus some dealer combinations, while tens should never be split. When you split, your two cards will be divided into two hands that are played individually. Aces should always be split, but there's a twist: when splitting Aces, you only get one extra card. As with everything in blackjack, the dealer's hand is essential for which hands you should split or not.
Side bets
Certain online tables and live casino blackjack games have side bets available. Side bets are basically pure gambling, as you win or lose the bets depending on the cards that you and the dealer are dealt. There are many different side bets available, such as getting three of a kind, flushes, perfect pairs, straights and many more. The side bets lower the RTP of the game, as the odds are even more in favour of the house. Still, they can bring some additional fun for those who like some extra gambling action on the side.
Playing multiple hands
Traditionally, blackjack is played with more than just one player at the table. If you play computer blackjack or at a live casino table with open seats, you are allowed to play on more than just one hand each round. You do this by placing chips on any of the free spots. Playing multiple hands does not affect the RTP or your chances of winning, but you'll get more action each round.
Insurance
We explained how insurance works a bit earlier in the guide. Although it might be tempting to buy the insurance when the dealer shows that scary Ace, you should never do it. Insurance gives a big edge to the casino, and you will lose a lot in the long run if you always take insurance – even when you have a blackjack yourself.
One of the advantages of playing online blackjack is that you have the internet to your disposal. There are several blackjack sheets available on the web, and they show you exactly how to play the hand that you are dealt. Keeping a sheet nearby can be very handy, especially if you are a new player who hasn't learned it by heart yet. Once you have become more proficient, you will be able to know what to do in each spot instantly.
Experience blackjack online
Live casinos changed the way we enjoy table games on the internet, and blackjack is one of the table games that are most fun when played in a live casino setting. Blackjack has always been played with multiple players at the table, and you get the same traditional experience in live casino blackjack. This means that you can see the cards of the other players and evaluate how they play them, and you can communicate with them via the dedicated live chat. Most online casino UK sites feature a wide selection of live blackjack table games so that you always can find a free seat when you wish to play.
For the most part, live casino blackjack works exactly the same as standard computer blackjack. The same game rules apply, and you place the chips that you want to bet on the table in front of you to play. But for many, live casino blackjack is much more exciting than regular blackjack. Instead of playing against the computer, you go head to head with a real, professional dealer. Be prepared for a slightly slower experience, however – since you play with other players, you might have to wait a bit before it's your turn to act.
There are several live casino providers on the internet, but the two leading providers are NetEnt Live and Evolution Gaming. You will find the high-quality live games from these world-leading studios at most of the UK casinos you visit. Both Evolution and NetEnt have a wide variety of blackjack games in their lobbies, and you will always find a table that is suitable for you. Tables have different betting limits so that both new players and high rollers easily can get a seat. There are VIP tables that let players bet thousands of pounds per hand, making blackjack the perfect high roller game for those who like to bet big. If you want a bit faster action, you can check out games such as common draw blackjack. In these games, every player at the table plays the same hand so that you won't have to wait for a long time between each round.
We have made an extensive live casino guide that you can check out if you wish to learn more about the exciting world of live gambling. All you need to get started is a modern device that can handle HD quality video streaming. Since you have to act within just a few seconds while playing live blackjack, you should make sure that you are on a stable connection that doesn't time you out in a crucial spot.
Best blackjack for playing online
Now that you've learned the basics rules and some advanced tactics of blackjack, you might feel ready to try your luck on it. To start playing blackjack, you just need an account at a reputable casino. There are a lot of sites to choose from, but far from all of them are worth your time and energy. If you are looking for a new casino, you are welcome to check out some of our casino reviews. At BestCasino, we keep track of all the online casinos and guide our readers to the best UK casinos on the internet. The sites on our top lists have generous welcome bonuses, wide game selections and quick withdrawals. To help you identify and separate good casinos from bad ones, we recommend you to use our checklist when visiting a new site. When we review an online casino, we have a look at the following factors:
Welcome bonus: Every casino you visit will offer you a welcome bonus of some sort. Some sites will give you a match bonus when you make your first deposit, and others will fill your account with shiny free spins. Welcome bonuses are meant to give you a kickstart in the casino, so it's always worth reading up on it before deciding to deposit for the first time. Always make sure to have a look at the bonus terms and wagering requirements as well.
No deposit bonus: What's better than a deposit bonus? A no deposit bonus, of course! A few casinos offer their new players a free bonus upon registration. The no deposit bonus can be anything from a handful of free spins to a free casino chip, and it lets you check out the casino before you put any of your own money on the line. With some luck, you could even turn it into a free withdrawal.
Game selection: Luckily, virtually every casino on the internet has a wide variety of blackjack games. It is one of the most popular casino games of all time, after all. Still, it's always a good idea to flip through the games catalogue before deciding to make an account to make sure that your favourite variations are in place. If you like to play online slots, you might also want to look out for the best game providers.
Live casino: As we wrote a bit earlier in the guide, live casino blackjack is the ultimate way to play the game. At the live table, the action takes place with real cards and professional dealers. Not all online casinos have a good selection of live blackjack tables (or not even a live casino at all) so if you want to play live games, you should stick to casinos that have an excellent live lobby.
Loyalty rewards: The best casinos are those that reward their loyal players with frequent promotions and valuable rewards. Generous casinos such as Rizk spoil their players with treats such as free spins and cash as long as they keep playing. If you plan to stick to one casino, you should definitely go for one that has a loyalty or VIP program as well as frequent bonus offers.
Mobile casino: If you'd like to play a quick round of blackjack on the go from time to time, you need to find a mobile casino that fulfils all of your requirements. Most modern casinos work just as well on phones as they do on the computer, and blackjack is just as fun on the smaller screen. Just make sure that your phone has plenty of battery life left while playing live blackjack, as you could risk missing your turn if it runs out of juice.
Payment methods: Most casinos have the majority of common payment methods in place, which means that you can deposit and withdraw using credit cards, e-wallets and bank transfer. Making deposits at licensed casinos is entirely safe, as they encrypt all transactions with modern security technology.
License: Before you register at a casino, always check which licenses it operates with. Online casino UK sites are required to have a license from the UKGC. When a UKGC license is in place, you can safely make deposits and play knowing that it is a trustworthy and reliable operator. Most casinos are also licensed by the gambling commissions of Malta, Gibraltar, Curacao or Alderney.
Customer support: If something goes wrong, you'll want to get in touch with a customer service agent quickly. Having an on-site live chat is an absolute must these days, and preferably one that is open 24 hours a day, 7 days a week. Email support and phone support can also be useful in certain situations.
Whenever you come across a new casino, you can check if it fulfils the requirements we listed above. As long as you play at a trustworthy casino that has the features you like, you'll have a good time – and that's the point of gambling, after all!
Blackjack conclusion
Blackjack is a true casino classic that has been loved by gamblers for centuries. The modern version of the game has been played at card rooms in Las Vegas and across the world for many decades, and it remains one of the most popular casino games in the world to this day. What separates blackjack from other iconic casino games such as baccarat, roulette and slots, is that the player must use strategy in order to win. Although good luck goes a long way, it's not enough to keep winning over an extended period. Nothing is more thrilling than going on a winning streak by being dealt blackjack after blackjack or making perfect plays to beat the dealer.
Since blackjack requires a moderate amount of knowledge and skill, it's important to know the basic rules before jumping into the game. While learning the value of the cards and the best starting hands is a good start, it's also useful to know when to split and double. New players often commit the mistake of only looking at their own hands without taking the dealer's card into consideration, making them misplay marginal hands. Having a blackjack sheet nearby can be a good idea, especially for beginners who haven't learned the ins and outs of the game yet. As with everything, the best way of learning is by practising – and after some time, you'll instantly know what to do in each spot.
On our website, you can find many useful guides you help you become a more informed gambler. We have written extensive guides for everything from slots to poker, and we do our best to keep you updated with the latest news of the casino world. Feel free to browse our casino reviews to find the best UK casinos on the internet.