Affiliate Disclosure: At BestCasino, we strive to match players with the best casino offerings. Because of this, some of the site links that are suggested are affiliate links. This means BestCasino will get a commission payment at no additional cost to you if you visit a website through our link and make a deposit. As a result of our editorial standards being created to be commercially independent and adhere to a professional methodology, all product reviews and suggestions continue to be unbiased.
Review
Without deposit
Deposit bonus
Rating
Play
Ad | 18+ | New UK customers only. Opt-in required. 20 Bonus Spins on "Sahara Riches Cash Collect" and 100% Deposit Bonus up to £25 on first deposit. Min. deposit £10. 30x wagering requirement for Bonus Spins and 30x wagering requirement for Deposit Bonus (game weighting applies). Max. £5/spin or £0.50/line or £10/round (Live Casino). 30 days expiry. Terms and Conditions apply.
Play responsibly
|
T&Cs apply
An introduction to poker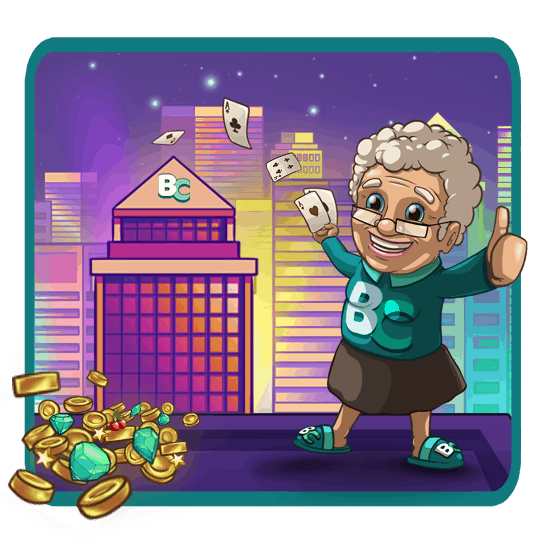 Poker as we know it had its beginning in the United States in the early 19th century. The game was played with every player having five cards each. Today, the most popular form of poker is Texas Hold'em. In this version, every player has two cards each, referred to as hole cards. Five community cards are dealt in the middle, and the aim is to combine the hole cards and the community cards to create the best hand of poker possible. However, five card poker is still being played both online and in cards rooms around the world to this day, alongside other variations such as Omaha and stud.
To succeed in poker, you need a lot more than luck. The game is all about reading your opponents and playing your cards to optimise your chance of taking down the pot. A high card of Ace can be good enough in some situations, while a full house would lose in some spots. Each round of poker is completely unique, and that's what makes is such a deep and fun game to play.
When it comes to casino poker, we normally mean the types that are played against the house instead of other players. The most common casino poker games are games such as Caribbean stud, three card poker and casino hold'em. Video poker games are slot machines that simulate real poker hands by giving you random cards to play with. While you don't need to bluff or read hands in these types of games, they manage to capture the core excitement of poker. You also need to know the probability of hitting the hand that you need to score a win. In games like casino hold'em, the aim is to beat the hand of the dealer. If you don't think your hand is good enough, you need to know when to throw your cards into the much. In video poker, you must throw away the correct cards and go for the hands that have the highest probability of hitting. Everyone can win in these types of games as long as the correct strategy is used. We'll dive deeper into the different types of video poker games and casino poker games later in this guide, and teach you some basic strategies that will come in handy when you play.
Play online poker against other players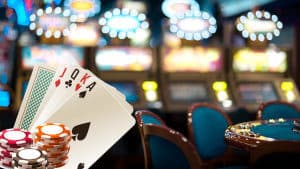 Most of us associate poker with playing with a group of friends or in a casino card room against other players. Poker has been around for many decades, and the most popular type today is Texas Hold'em. Millions of hands are being played every day on the internet. You can sit down at any type of poker game and instantly play against players from all over the world.
The rules of Texas Hold'em are easy to learn. We won't go into much detail about how to play the game here, but here is a rundown of how a typical round plays out: Every player is dealt two cards, called the "hole cards". Players fold, call or bet before the three first community cards (flop) are being dealt. Another two rounds of checking, calling, folding or betting continues, until there are a total of 5 cards on the table. The player with the best hand takes down the pot, or if everyone else folds.
The setup and rules are a bit different in games such as stud and Omaha, but the goal is still to complete the best hand possible. The hands are ranked in the following order:
High card
Pair
Two pair
Three of a kind
Four of a kind
Straight flush
Royal flush
Knowing which hands beat which is naturally an essential part of becoming a poker player, but there is a big difference between knowing the rule of the game and playing it well. There is a common saying: "poker takes five minutes to learn, but a lifetime to master". This is true because you can not win just by playing the hand you've been dealt, you must also outsmart your opponents and know when to fold your cards, or when to go for that big bluff by shoving your chips into the middle. So while poker is a game that is very easy to learn, it requires a lot of practice to master.
Not only are there many types of poker games available online, but also betting levels and types of tables. The most common types are tournaments, cash games and sit and go's. In poker tournaments, everyone buys in for the same amount of money and are given a starting stack of chips. You are out from the tournament once you lose all of your chips. The goal is to last as long as possible and beat the other players to end up on the leaderboard where the prizes are. Poker tournaments usually have hundreds or even several thousands of players, which can make their prize pools enormous. There are online tournaments where the players battle for several hundred thousands of pounds. Sit and go's work similarly to tournaments, but they usually have fewer players, making it much easier to pick up one of the prizes.
Cash games are other popular types of poker games. As the name indicates, you play against other players for real cash. Everyone buys in how much they want as long as it's within the table limits. The goal is simply to win as much cash as possible from the other players, and you can buy in for more or leave the table and bag your winnings whenever you'd like. It's usually a good idea to follow a "bankroll" strategy where your balance can afford to play the stakes that you are playing with. It's rarely smart to buy in with your full balance at the table, as anything can happen in cash games. You can suddenly end up in a situation where you lose your full balance in one hand.
If you are a brand new player, it's probably a good idea to start by playing the lowest stakes possible. Some cash game tables let you buy in for a little as £1 or £2, and you can play tournaments with the same level of buy-ins. What you choose to play is all up to your personal preference. Some players enjoy high stakes Omaha tournaments, while others like to grind it out at the no limit Texas Hold'em cash tables. You won't find classic online poker at every online casino UK these days, but you should definitely give it a try if you come across it!
Types of online poker
When it comes to casino poker, the rules are different than the classic online poker games we wrote about in the last part. Instead of playing against other players, you go head to head with the dealer. There are different types of casino poker, but they all share the same basic concept: of beating the dealer by getting the best hand. In this part of the guide, we'll write about the rules of the most common poker games that you'll find at nearly every UK casino.
Casino hold'em: Casino hold'em is the most popular type of casino poker, as it works similarly to normal Texas hold'em. At the beginning of the round, the player places an ante to participate in the round and to bet. The dealer and the player are dealt two cards each, also known as hole cards. The dealer's cards are dealt face down, which means that the player only sees his own cards. Three community cards will be dealt in the middle of the table, and the player can either call or fold. If the player folds, the ante is lost and the house wins. But if the player calls by putting down more chips, the turn and river will be laid out in the middle. The goal is to beat the dealer by having a better a hand. As both the dealer and the player have two cards each, the chances of either winning are basically 50/50. The house only has a small edge because the player can choose to throw away his hand and fold. This leaves room for mistakes and throwing away a hand that would have won. Any kind of pair or even a high card such as Ace is usually enough of winning the hand, but if you get a strong hand such as three of a kind or straight, you should naturally go all the way without hesitating. Each round of Casino hold'em is very quick so that you can play many hands in a short period.
Caribbean stud poker: Caribbean stud poker works very similarly to Casino hold'em, but the difference is that there are no community cards at the middle of the table. Instead, the dealer and the player plays with a separate selection of cards. At the start of each round, the player puts bets an ante and gets five cards dealt face down. The dealer also has five cards, with only one of them faced up. The player can either fold or continue by calling. Just like in Casino hold'em, the player loses the ante by folding. If the player calls and beats the dealer, he takes down the full pot. Caribbean poker is very easy to get into, and as long as you know the basic poker hands and their chances of winning against five random cards, you have a good chance of winning. The key is to look at the card of the dealer and see if you have cards or hands that can beat it.
Three card poker: Three card poker is perhaps the simplest form of poker in this list, but it's no less fun than any of the other games. The players are dealt three cards after having placed an ante bet. After having had a look at the cards, they can choose to fold or continue playing by doubling down on the ante bet. If the player continues, the dealer's cards are flipped over. The dealer must have a queen or higher in order to qualify, and if the dealer does not have a hand with a queen or higher, the player automatically wins. Three card poker is a very fun and simple game to play, and as long as you have a high card or especially a pair of some type, you've got a good chance of beating the dealer and taking down the pot.
Casino hold'em, Caribbean stud poker and three card poker are the three most popular forms of casino poker, but there are other types available. These three games can be enjoyed at nearly every UK online casino that offers table games such as roulette, blackjack and baccarat. In the next part of the article, we'll show you how to elevate the casino experience by playing against live dealers instead of a computer!
Play against real dealers on the internet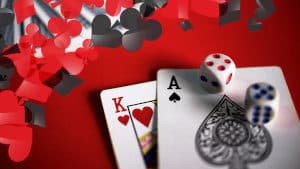 When it comes to online gambling, nothing brings more immersion than live casinos. Instead of playing against the computer, you go head to head with professional dealers that are using real cards and tables. Everything works as it would in a normal online casino, except that the action is streamed straight to you using HD video. Most online casino UK sites have live casinos nowadays, but not all of them offer poker games. One of the biggest live casino providers, NetEnt, do sadly not offer live poker games. But if you find a live casino powered by the famous live studio Evolution Gaming, you will most likely be able to enjoy the most popular poker games such as casino hold'em, three card poker and Caribbean stud poker.
So how does it work? In classic online casino poker, you play against the computer. That is a fun way to experience the games, but it doesn't offer the same kind of immersion that live casinos do. Live gambling has become one of the most popular forms of gambling, and you can play anything from roulette to baccarat at the tables. Poker works similar to baccarat, as every player plays the same cards. At the start of each hand, you have the option to place a bet. You can bet as small or big as you'd like, as long as you're within the limits of the table. Use the chips to set the bet that you wish to play with. The round will begin after just a few seconds, so make sure to be quick before the round begins without you.
After the cards have been dealt, you play the games just as normal. You have the option to call or fold, depending on the poker game that you are playing. Since you are playing the same cards as other players, you might experience that you get dealt a card after you've folded. This is because at least one other person decided to call instead of folding the cards. Don't worry though, no money will be taken from your account since you chose to fold. Live casino poker games let you interact with the friendly dealers and the other players at the table in real-time, making it an even more authentic poker experience. The action might be a bit slower than in normal online poker games, but the immersion makes up for it. Just remember to play quickly, as the next round begins immediately once the timer reaches zero.
Visit the live casino section of your favourite online casino to see if it features poker games. If not, you'll have to settle with the classic computer versions for now. If you wish to learn more about live casinos, you can check out our extensive live casino guide.
How to play video poker
Video poker was invented in Las Vegas in the early 70s, and the idea behind it was to offer an alternative to slot machines. The game became an instant hit among players who were looking for more interaction than what a standard slot could offer. Video poker is a mix between poker and slots, and it is based on five card poker. The goal is, of course, to achieve the best hand of poker possible. At the beginning of the round, the player is dealt five cards. The player can discard and redraw any or none of the five cards once to try and get the cards needed to complete the hand. To succeed in video poker, you only need to have basic knowledge about poker: the ranking of hands, the payout of each combination, and simple odds calculation are essential for becoming a skilled video poker player.
There are many types of video poker games, but we'll stick to the most common variants in this article. Just like in a slot machine, you set the bet you wish to play with yourself. If you are a new player, it might be a good idea to practice with a low bet before you've learned the basic strategies. What each type of video poker variant has in common is that the payouts are based on the ranking of the hands you get after redrawing the cards once. Some games have wilds in place which can replace any other card, but the payouts for all types of hands are lower in return. This is because it's much easier to achieve hands such as high pairs, flushes or four of a kinds. That being said, let's jump into it and explore the main variants of video poker games:
Jacks or Better: Jacks or Better is the most common video poker variant, and it's an excellent starting point for new players. As the name indicates, you'll get a win by hitting a pair of Jacks or higher (Jacks, Queens, Kings, Aces). The payout of a high pair is usually not more than the bet that you placed in the first place. If you have a lower pair than Jacks in a hand, the best play is usually to keep it and go for three of a kind, which pays a win regardless of the value of the cards. There are 52 cards in the deck, which means that it's not possible to get two of the same card in one round.
Joker Poker: The action is heating up in Joker Poker; another wildly popular type of video poker. Joker Poker works similarly to Jacks or Better, but one or two jokers have been added to the deck. These works as wilds, which means that you can combine them with anything else to create a hand. For example, if you have three fours and a Joker, you will have a four of a kind instead of only a three of a kind. Because of this, it's possible to achieve five of a kind in Joker Poker, which is a very valuable hand. The general pays are lower than in Jacks or Better, however, since it's easier to hit winning hands.
Aces and Faces: Aces and Faces is another common video poker game that you will run into at many online casinos. The game works exactly like Jacks or Better, but the difference is that four of a kinds with Aces and face cards (Jacks, Queens and Kings) pay much better than in the original game. The game is still played with a deck of 52 cards, so hitting four of a kind with high cards is definitely not easy – but worth going for!
Deuces Wild: Deuces Wild is one of the most played video poker variants, especially among players who are looking for constant action. Like the name indicates, all the four Deuces in the deck turn into wilds – just as the Jokers do in Joker Poker. This makes hitting hands much easier, but in return, you need more than just a high pair in order to get a win, and the payouts for hands such as straights, flushes and four of a kinds are much lower than in other versions. There are even games that have both wild Deuces and Jokers added, which makes it even crazier.
Tens or Better: Tens or Better works the same as Jacks or Better, except, you guessed it, a pair of tens is enough for a win. This makes it a slightly easier game to win it, but the payouts are a bit lower to make up for the difference. You can play Tens or Better and Jack or Better at pretty much any casino.
These are the most common video poker variants, but there other types on the internet such as bonus video poker and jackpot video poker. The RTP of video poker is extremely high, but that naturally depends on the strategy you are using. To win in video poker, you must play the hands the optimal way. By doing so, you can get an RTP that is very close to 100%. Because of this, you will find that video poker games are excluded or capped for wagering when you play with bonus money.
Of course, it's possible to just follow your gut feeling as well. If you are an experienced poker player that knows the general odds of hitting hands, you will be able to play well without needing much guidance. But if you wish to play optimal, a good idea is to find a video poker chart and follow it closely while you are playing. A useful chart will tell you which cards to discard so that you go for the option that makes you more money in the long term. Sometimes it's worth it to go for that straight, while you should play it safer in other spots. No video poker hand is exactly the same, which is what makes it such as fun and thrilling game to play. If you like poker and want to try out something different than casino poker table games, video poker is an excellent choice. They capture the excitement of slots, but the results are heavily dependant on how you play your hand.
Poker conclusion
The world of casino poker is packed with exciting variations of the beloved card game. Whether you are a veteran poker player or barely know the rules, you can find a lot of enjoyment from playing the games we have listed in this guide. While you need a lot of skill to win in poker against other players, casino poker gives you a chance of winning with only luck and some basic knowledge.
In this guide, we have highlighted some of the most common casino poker games. If you like table games such as blackjack and baccarat, you'll probably enjoy poker table games as well. Most online casinos have a live casino lobby where you can try your luck in poker games such as casino hold'em, Caribbean stud and three card poker. These games have different rules, but the goal is still the same: to beat the dealer by getting a better hand. Casino poker games are like standard poker boiled down to its purest form. You don't need to study your opponents, read hands or wait for an eternity between the rounds – just take a seat and start playing immediately.
For a different poker experience, make sure to give video poker a shot. Video poker was invented in Las Vegas in the 70's, and it's a glorious mix of slots and poker. In video poker, the aim is to create the best hand possible by discarding between zero and five cards once. If you're lucky and hit a royal straight flush, you're in for a jackpot sized prize. There are several thrilling video poker games to choose between: from the classic Jacks or Better to the more action packed variant Deuces wild. For a chance of winning in video poker, you just need to know the ranking of hands and the chances of hitting the cards that you need to create to complete the hand that you're going for.
You can find video poker and table games at virtually every UK casino on the internet. If you are looking for a new casino to play at, check out our in-depth casino reviews. We at Bestcasino.com only feature trustworthy and licensed casinos that offer the most popular games and generous bonuses. Feel free to read our other casino guides to learn more about the world of online casinos!