Play online poker against other players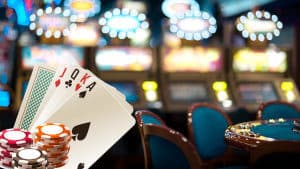 Most of us associate poker with playing with a group of friends or in a casino card room against other players. Poker has been around for many decades, and the most popular type today is Texas Hold'em. Millions of hands are being played every day on the internet. You can sit down at any type of poker game and instantly play against players from all over the world.
The rules of Texas Hold'em are easy to learn. We won't go into much detail about how to play the game here, but here is a rundown of how a typical round plays out: Every player is dealt two cards, called the "hole cards". Players fold, call or bet before the three first community cards (flop) are being dealt. Another two rounds of checking, calling, folding or betting continues, until there are a total of 5 cards on the table. The player with the best hand takes down the pot, or if everyone else folds.
The setup and rules are a bit different in games such as stud and Omaha, but the goal is still to complete the best hand possible. The hands are ranked in the following order:
High card
Pair
Two pair
Three of a kind
Four of a kind
Straight flush
Royal flush
Knowing which hands beat which is naturally an essential part of becoming a poker player, but there is a big difference between knowing the rule of the game and playing it well. There is a common saying: "poker takes five minutes to learn, but a lifetime to master". This is true because you can not win just by playing the hand you've been dealt, you must also outsmart your opponents and know when to fold your cards, or when to go for that big bluff by shoving your chips into the middle. So while poker is a game that is very easy to learn, it requires a lot of practice to master.
Not only are there many types of poker games available online, but also betting levels and types of tables. The most common types are tournaments, cash games and sit and go's. In poker tournaments, everyone buys in for the same amount of money and are given a starting stack of chips. You are out from the tournament once you lose all of your chips. The goal is to last as long as possible and beat the other players to end up on the leaderboard where the prizes are. Poker tournaments usually have hundreds or even several thousands of players, which can make their prize pools enormous. There are online tournaments where the players battle for several hundred thousands of pounds. Sit and go's work similarly to tournaments, but they usually have fewer players, making it much easier to pick up one of the prizes.
Cash games are other popular types of poker games. As the name indicates, you play against other players for real cash. Everyone buys in how much they want as long as it's within the table limits. The goal is simply to win as much cash as possible from the other players, and you can buy in for more or leave the table and bag your winnings whenever you'd like. It's usually a good idea to follow a "bankroll" strategy where your balance can afford to play the stakes that you are playing with. It's rarely smart to buy in with your full balance at the table, as anything can happen in cash games. You can suddenly end up in a situation where you lose your full balance in one hand.
If you are a brand new player, it's probably a good idea to start by playing the lowest stakes possible. Some cash game tables let you buy in for a little as £1 or £2, and you can play tournaments with the same level of buy-ins. What you choose to play is all up to your personal preference. Some players enjoy high stakes Omaha tournaments, while others like to grind it out at the no limit Texas Hold'em cash tables. You won't find classic online poker at every online casino UK these days, but you should definitely give it a try if you come across it!