Review
Without deposit
Deposit bonus
Rating
Play
How does baccarat work?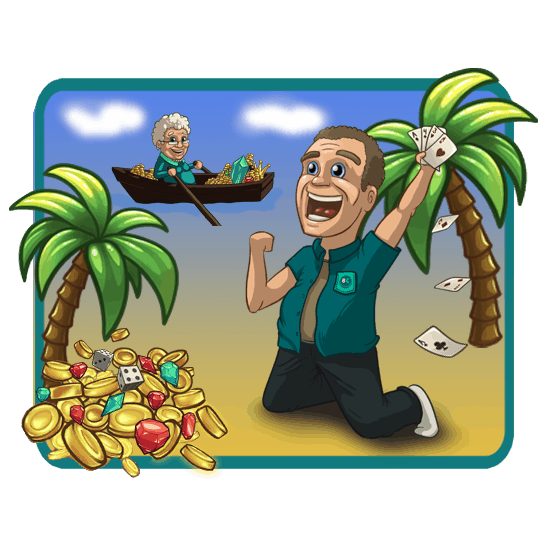 Baccarat can be a bit confusing in the beginning, and it might be difficult to understand it without having anyone explaining the game to you first. However, after some time you will quickly realise that it's one of the most basic casino games there is, and it's easier to understand than blackjack or roulette. There are only three possible outcomes in every round of Punto Banco: "player", "banker" or tie. The players at the table place their bets on any of these outcomes at the beginning of the round, and the dealer deals two cards face down to the "player" and "banker" sections. Once the bets have been placed, no further action is required from the player. The dealer will play out the rest of the hand, and the players can only look and hope that they bet on the correct outcome.
The goal of the game is to bet on whether the "player" or the "banker" gets a hand score that is closer to 9. Both the player and the banker are dealt two cards each, and the total points are calculated by summing up the card values. The Ace is worth 1 point and 2-9 is worth their face value. Tens and the high cards J, Q and K are worth 0 points. If one of the hands consist of a K and an 8, the total value is 8. If the total value of the hand exceeds 9, 10 points are subtracted from the value. For example, if the starting hand of the player consists of a 9 and a 7, the total value is 16 – 10 = 6. If the banker has a hand consisting of a J and a 7, the total value is 7, and the banker wins.
In some cases, an additional third card is needed to determine the outcome of the round. If the player has a hand value of 0 to 5, another card must be added to the hand. If the player has a value of 6 or 7, it stands. A player hand value of 8 or 9 is called a "natural", and both hands stand. After the player receives a third card, the banker receives a third card depending on specific rules. If the banker has a hand value of 0 to 2, another card must be added to the hand. If the value is 3 to 6, the banker either stands or draws another card depending on the third card of the player. The banker must stand on 7, and an 8 or 9 is a natural and both hands stand. While knowing the specifics of the third card rule can enhance the excitement of the game, it's not necessary to learn by heart. The dealer will automatically play out the hands and deal the third cards where it applies. When both the player and the banker ends up with the same hand value, it's a tie. The house wins when the round ends in a tie, taking all of the bets of those who bet on player or banker.
The simplicity of the game coupled with its high RTP makes baccarat a wildly popular casino game. Unlike blackjack or poker games, the players do not need to use strategy in order to win. It's purely a luck based game, and the high RTP makes it friendly to new players. The house has an edge of only 1,24% on player bets and a 1,06% edge on banker bets. Betting on a tie can lead to the biggest payouts, as a tie bet usually pays 8 to 1 or 9 to 1. However, placing the chips on a tie bet is not recommended as it has the lowest RTP in the game. In most variants of baccarat, the house takes a 5% commission on bets won on the banker. The reason is that the banker wins slightly more frequently than the player due to the game's structure. It all evens out in the end so it doesn't matter what you bet on in the long run. Just follow your gut feeling!
The modern version of baccarat has been around since at least the 19th century, but some claim that the game has its roots from the 15th century. Punto Banco stems from North America, and it's by far the most popular version of the game. In fact, over 90% of the revenue of the enormous casinos in Macau in 2014 came from Punto Banco. In real brick and mortar casinos the game is played with either 6 or 8 decks of cards, and up to 12 or 14 players can play at the same time. Thanks to online casinos, anyone can enjoy baccarat no matter where they are – both computer versions and live casino versions let you take a seat 24 hours a day. In the next parts of our baccarat guide, we'll show you how to play and give you some great tips.
How to play baccarat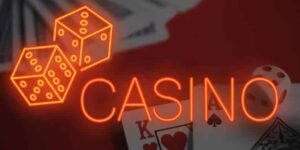 Baccarat is one of the easiest casino games to play as you only have three betting choices on a standard baccarat table: player, banker or tie. Other table games such as blackjack and casino poker require you to play the game a specific way to increase your chances of winning. Sitting down to play at a poker or blackjack table without knowing the basic strategies of the game will most likely end poorly. Baccarat is so popular among gamblers around the world because of how straightforward it is. Each round only takes a few seconds and the only thing you need to win is luck.
At the beginning of each round, you place your bet on either of the sections. Once the bets have been accepted, the dealer deals two cards to the player and the banker. Most of the time the result will be clear immediately, but a third card is sometimes needed in order to determine the winner of the round. A tie occurs when the player and the banker have the same hand value, and you lose your bet if you placed your chips on either of them. It is possible to bet on a tie, but we recommend against it – although the payout on a tie usually is worth 8 or 9 times the bet, the chances of it happening is much lower. The odds on tie are massively in the favour of the casino, and you would most likely lose a lot by betting on it in the long term.
Apart from not betting on ties, there are no viable strategies a baccarat player can use to increase his winning chances, simply because the game is purely luck based. The banker has a slightly higher chance of winning each round due to the way the game is structured, but the house usually takes a 5% commission on winnings from the banker bet to even out the difference. However, some UK casinos offer baccarat tables that do not have this commission, meaning that you could find a table where you can slightly increase your RTP by betting purely on the banker.
Baccarat is a thrilling game with non-stop action. Each round only takes a few seconds, so there is not a lot of waiting involved. Many casinos feature speed baccarat tables where the game is played even faster, making baccarat the perfect game for players who feel like roulette and blackjack is a bit too slow. We recommend trying out the game in practice mode before playing with real money. Once you've played a few rounds, you'll quickly understand how the game works and how the different hand values are calculated.
Play real baccarat online
Baccarat is meant to be played with multiple players at the table, and there are usually up to 12 or 14 players in each game in brick and mortar casinos. If you visit a Las Vegas casino, you'll find several players rooting for the player or the banker as the dealer slowly reveals the cards. Since no further action is required from the player once the bets have been placed, Punto Banco makes for a fun social game that everyone can enjoy. Nearly every online casino UK site has different variations of computer baccarat, but if you want to take the game to the next level, you should check out the exciting live casino version of it.
Live casino baccarat is the preferred way to play the game for most players, as it gives a more authentic casino experience than what is possible with the computer version. Live casino games are played with real cards and professional dealers who quickly calculate the hand values. All of the action is transferred live to you via HD streaming, and the end result is that you feel like you're in a real casino. The world-class games provider Evolution Gaming is the best live casino provider on the internet, and most online casinos feature their vast library of fantastic live games. When you play at an Evolution Gaming casino, you'll be able to enjoy a wide variety of popular baccarat games:
Standard baccarat
Evolution Gaming has several tables with punto banco, the standard variation of baccarat. There are usually several dozens of players at each table, but since it's online baccarat, there is no limit to how many players that can play at the same time.
Speed baccarat
Speed baccarat is just the same game as standard baccarat, but the action is much faster. While a normal round of baccarat usually takes around a minute, Evolution Gaming's speed baccarat version halves the time and finishes each round within 30 seconds. This is the perfect version for those who like non-stop action without any breaks.
Baccarat squeeze
Baccarat squeeze is the most exciting type of baccarat. Over 15 cameras capture every detail of the table, and the dealer keeps the suspense up by slowly revealing the cards for the hand that has the biggest total wager.
Baccarat control squeeze
This version of baccarat works similarly to baccarat squeeze, but the suspense is increased as the players have full control of the squeeze. The cards are dealt on glass panels, and the players can click on the cards they want to squeeze. Control squeeze is the ultimate Macau experience.
Dragon Tiger
Dragon Tiger is a simplified version of baccarat. The dragon and the tiger get one card each, and the player bets on where the highest card goes. There is also a tie bet with a higher payout. Dragon Tiger is baccarat reduced to its purest form.
Different variations
The games in the list above are just some of the baccarat tables you'll find at most online casinos that have live games from Evolution Gaming. The full selection depends on the casino you're playing at, as not all sites have all of their games. Unfortunately, the other big live games provider NetEnt doesn't offer baccarat games at the moment, but several smaller live casino providers have a nice selection of them.
One of the biggest benefits of playing live casino baccarat is the side bets that can further increase the excitement. While these side bets have a lower RTP than the main game, they give you a chance of winning much juicier prizes. The most common side bet is the pair bet which has a payout of 11 to 1. Other side bets you can find are player bonus, banker bonus and perfect pair – the latter having a huge payout of 200 to 1. It's important to note that not all casinos offer side bets. Although the house edge is quite high on side bets, they provide some extra fun for those who love to gamble.
As soon as you've found a live baccarat table, you can take a seat and start playing right away. Make sure to join a table that plays with the stakes you are comfortable betting with. Some tables let you bet as little as £1 per round, while there are VIP tables that require you to bet much more to play. You should be able to see the limit in the lobby before you click on the table so that you don't join in on a table that is above your limits. If you wish to learn more about live casino gambling, you are welcome to visit our extensive live casino guide.
Best baccarat for playing online
Since baccarat is such an iconic and popular casino game, you can find it at virtually every UK casino on the internet. Some sites have several variations of the game, while some only have a few tables available. If you are excited to try out baccarat for yourself, there are many things you should take into consideration before signing up to a casino. We at BestCasino do our best to provide our readers with useful information and guides that help you become a more informed gambler. We also spend a lot of time testing new casinos to ensure that we only recommend the best sites. When reviewing a casino we carefully look at all the aspects of the site, from the welcome bonus to the quality of the support. If you are a new player that is looking for a new casino to play at, you can't go wrong with any of the sites featured in our top list. Here is a list of some of the important things we take into consideration when writing a review:
First deposit welcome bonus: Welcome bonuses are essential to seasoned gamblers as they are some of the most valuable casino bonuses one can get their hands on. Casinos offer their new players welcome bonuses to entice them to make their first deposit. The best welcome offers will boost your first deposit with 100% extra, and perhaps give you more to play with on your second and third deposit as well. Remember to always check the full details about wagering requirements and bonus rules before claiming any type of deposit bonus.
No deposit bonus: Some casinos go one step further and offer new players a no deposit casino bonus upon sign up. These types of bonuses usually consist of free spins or a small amount of bonus money, and they let you play in the casino for free. With some good luck, you could get a nice win and withdrawal without risking any of your own hard-earned money.
Promotions and loyalty rewards: The most generous casinos will reward their players with frequent casino offers, free spins bonuses and more. If you stay loyal to one casino, make sure to play at a site that rewards you for playing. Casinos such as Casumo have automated loyalty programs that give you free spins and other casino goodies every time you fill the progress bar.
Selection of games: Chances are that you'll want to play more than just baccarat, so a good selection of other casino games and slots is needed to keep you entertained in the long run. We check the games lobby to see if it has the software from popular providers such as NetEnt, Play'n GO, Microgaming, Big Time Gaming, Yggdrasil, Novomatic and others.
Live casino lobby: Live casino baccarat is the most fun version of the game, and Evolution Gaming is the king of live gaming. If you want to play live baccarat, you should check the live lobby to see if it has the fantastic baccarat games from Evolution or any other prominent live game providers with multiple baccarat tables.
Mobile casino: Baccarat is the perfect mobile casino game. One round rarely takes more than 30 seconds, and even faster if you play the speed version of it. If you want to play baccarat on the go, you should choose a casino that has an excellent mobile site. Most modern casinos have mobile versions with hundreds of games, live chat support and all the other features you'd want as a player.
Quality of customer support: When you have a question or when something goes wrong, you shouldn't have to wait for hours or days before you get help from the casino. The best online casinos in the UK have customer support that is available 24 hours a day, 7 days a week. Most sites let you contact their support via live chat, email or phone.
License: Casinos that operate in the UK gambling market are required to have a license from the UK Gambling Commission (UKGC). Achieving this license is far from easy, and the operators must follow several strict rules in order to keep it. We only recommend trustworthy casinos that have a license from the UKGC as well as licenses from either Malta, Gibraltar, Alderney or Curacao. The license information should be listed in the footer of each casino.
Payment methods and security: If you're lucky and get on a hot streak at the baccarat table, you'll want to get your cash to your bank account without having to wait many days first. The withdrawal processing times and available payment methods are some of the things we cover in all of our casino reviews.
Whenever you come across a new casino, you can use the guidelines above to see if it's a casino worth playing at or if you should move on. There are hundreds of online casinos on the internet, and all of them want your business. Only the cream of the crop are featured at BestCasino, so you are welcome to check our reviews to find the best UK online casinos.
Baccarat conclusion
If you are the type of player who needs fast, non-stop gambling action, baccarat might be the perfect casino game for you. Baccarat is by far the most popular game in Asian casinos, especially among high rollers who like to bet big. Although it's a simple game that doesn't require much thinking or strategy, you'll never experience a dull second while playing it. Especially online, where it's possible to play several rounds per minute.
You might find baccarat a bit confusing in the beginning, but the rules are easy to learn. In punto banco – which is the most popular variation of the game – the goal is to bet on whether the "banker" or the "player" gets the hand value closest to 9. The round begins with the dealer dealing two cards face down to each section, before slowly flipping them over. The Ace is worth 1 point, 2 to 9 is worth their face value, and 10, J, Q and K are worth 0 points. In some cases, a third card is needed to determine the outcome of the round. The player doesn't need to know the third card rules in order to play since the dealer automatically calculates the hands and deals the third cards.
Since baccarat is a game of luck, you don't need to follow a game sheet or use advanced strategy to win. The simplicity of the game is what separates it from other iconic table games such as casino hold'em and blackjack. It's worth noting that while it's possible to bet on a tie for an 8 or 9 to one payout, it's generally considered a bad idea as the RTP of the tie bet is very low compared to betting on player or banker. The casino usually takes a 5% commission on bets won on the banker bet, as the banker wins more a bit more often than the player. It all evens out in the end, so it's all up to you as a player.
Punto Banco is available at most live casinos, especially when it's provided by the premier games studio Evolution Gaming. You can choose between many different live variations such as standard baccarat, speed baccarat, baccarat squeeze and several others. Pick a table that offers stakes that fits your gambling budget, and remember that you have a limited time to bet before the round begins. You can play live casino games both on your PC and on your mobile device, making it the ultimate table game for when you're on the go.
Virtually every online casino in UK offers a wide variety of popular baccarat games, and you just need an account at a trustworthy casino to start playing. At BestCasino.com you can find informative guides about casino games and bonuses, and we offer comprehensive reviews of some of the best casinos on the internet. Feel free to browse our casino reviews to learn more!
Frequently

Asked Questions

How do I play Baccarat?

Even though Baccarat might seem complicated at first, it's really one of the most simple and basic casino games out there. You simply bet on one of three outcomes. Either you bet on the player, the bank or if it's going to be a tie. The rest will be done by the dealer. We do recommend that you read this page in order to understand the mechanics and rules of Baccarat a little better before you start playing at your favourite online casino.

Do I have to be a highroller to play Baccarat?

No, you don't have to be. Earlier on Baccarat was a card game associated with highrollers above all and it was often played in special rooms at casinos due to the high stakes. Nowadays, however, it's common that anyone who wants to can play Baccarat. Especially thanks to the online casinos that offer tables with bet levels adjusted to fit everyone.

Can I play Baccarat with a casino bonus?

Yes, you can! While playing at online casinos you will be able to get a hold of different casino bonuses from time to time. Some of them are deposit bonuses and can be used if you want to play Baccarat. Just keep in mind that you should read the terms connected to the deposit bonus. For example, you will most likely don't fulfill the wagering requirement as fast while playing Baccarat compared to slots. Sometimes you can find exclusive live casino bonuses too. These are to prefer when you want to play Baccarat as the terms are better for you.

Where can I play Baccarat online?

Almost everywhere. Any decent UK casino offering games online should provide the possibility to play Baccarat. Both virtual and live Baccarat if you ask us. The two most common table games are still Roulette and Blackjack but most of the best online casinos do offer Baccarat as well these days. Our tip is to choose an online casino that focuses on their live casinos, such as LeoVegas and Mr Green. Here are exclusive live casino rooms too that you won't find anywhere else.

Can I play Baccarat at mobile casinos?

Yes, you can! Just a decade ago we wouldn't be so sure about it but thanks to the technical evolution the last years more or less every UK casino offer a superb mobile casino these days. Especially the best casinos that really go all-in on this. The main thing that differs among Baccarat on mobile casinos is how many versions you'll find. Some mobile casinos are fantastic when it comes to their selection of games, including Baccarat, while others don't put as much effort into their mobile products. This is another reason why you should read reviews about online casinos before you sign up and become a member.

Are there different versions of Baccarat?

Yes! Except for the virtual Baccarat that you play against the computer there are often several types of Baccarat when you play in the live casino. Of course, there is the original standard Baccarat. But sometimes you can find UK casinos that offer more than that. You might be able to play versions like Baccarat Squeeze, Speed Baccarat, and Dragon Tiger. On this page, you can read more about the different versions of Baccarat if you're curious and wants to know more about them.

I want to play Baccarat - where do I start?

First of all, you need an account at an online casino. On this page, you'll find some of the best UK casinos that offer Baccarat to its players. Click your way to a casino that you're interested in, sign up and make your first deposit. If there's a welcome bonus available you can use this too. Then you can either try a virtual version of Baccarat. This is probably the easiest thing to start with. When you're familiar with the game you can go on to the live casino. Here you will be able to play live Baccarat against a human dealer in real time, which will make even more exciting.

Can I use strategies while playing Baccarat?

No, not really. Baccarat is a quick, fun and thrilling card game based on pure luck. There are no special strategies that will help you determine the outcome. If you do search the internet you will probably find some strategies anyways but we always recommend that you play and enjoy the entertainment, knowing that it's based on luck and chance.