Affiliate Disclosure: At BestCasino, we strive to match players with the best casino offerings. Because of this, some of the site links that are suggested are affiliate links. This means BestCasino will get a commission payment at no additional cost to you if you visit a website through our link and make a deposit. As a result of our editorial standards being created to be commercially independent and adhere to a professional methodology, all product reviews and suggestions continue to be unbiased.
Review
Without deposit
Deposit bonus
Rating
Play
Ad | 18+ | New UK customers only. Opt-in required. 20 Bonus Spins on "Sahara Riches Cash Collect" and 100% Deposit Bonus up to £25 on first deposit. Min. deposit £10. 30x wagering requirement for Bonus Spins and 30x wagering requirement for Deposit Bonus (game weighting applies). Max. £5/spin or £0.50/line or £10/round (Live Casino). 30 days expiry. Terms and Conditions apply.
Play responsibly
|
T&Cs apply
How does roulette work?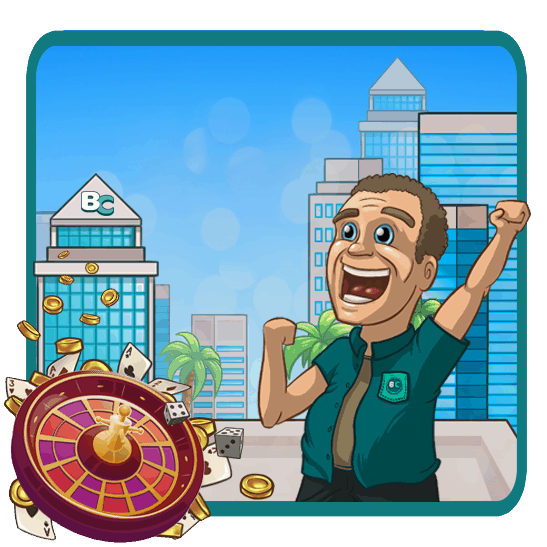 Even if you've never played roulette before, you probably know the basics of it. The roulette wheel has 37 numbers arranged in a random order from 0 to 36. The croupier spins the wheel and rolls the ball in the opposite direction, and players bet on which number or section the ball is going to land in. There are many betting options available, and it all comes down to how you like to play. You can bet on individual numbers for a big payout, or put your chips on red, black, odd or even for a less risky bet. The near unlimited number of options players have is what makes roulette so fun to play, and every roulette gambler has their own lucky numbers or sections that they swear by.
Roulette has one of the highest RTPs (return to player) of all casino games, as the house edge against the player is quite low. A standard European roulette wheel has 37 numbers including the zero, and the payout of hitting an individual number is 36 to 1. Half of the numbers on the roulette wheel is red or black and odd or even, and a win on these sections pays 2 to 1. However, the zero is green and neither odd or even, giving the casino a slight edge. It's all about finding the playing style that you enjoy the most. Some players stick to low-variance bets such as colour or sections, while others like to put their chips on individual numbers. If you place your bets on five numbers instead of ten, you will theoretically win less frequently – but when you win, the payout compared to your bet will be a lot bigger. There are no rights or wrong in roulette, and each round is always as exciting as the last one.
Roulette has been around since the 18th century, and the modern version with only one zero was introduced by the Frenchman François Blanc in 1843. It became popular all over Europe and in the United States during the 19th century, and it continues to be one of the most played casino game in the world. Thanks to online gambling, everyone can enjoy the excitement of roulette regardless of where they live. You can play roulette at virtually every UK online casino, both against a computer and in a real casino setting with live casino games. Keep reading to learn how and where to play roulette online.
How to play roulette
To be successful in roulette, you just need some good luck. The great thing about the game is that you can bet however small or big you'd like, and there are tables that accept anything from a few pennies per bet, going all the way up to tens of thousands per round. This makes roulette a game that everyone can enjoy, regardless of the size of their gambling budget. Just as in a brick and mortar casino, you play online roulette by placing your chips on the different sections on the table. There are 37 individual numbers to choose from, as well as the sections:
Red
Black
Odd
Even
First wheel section
Second wheel section
Third wheel section
Tier section
Zero section
Orphelins section
Voisins section
By betting on the sections, you can quickly cover several numbers of the roulette wheel without placing chips on the individual numbers. This is especially handy in live casino roulette where players have a limited time to bet before the round begins. You can also bet on neighbouring numbers by placing a chip in between two numbers. This will split the chip and count as half the bet on each number. It is also possible to bet on multiple sections at the same time – for example, you can bet on both tier and black in the same round. Of course, how you play and how much you bet is entirely up to you: you have chips of different values at your disposal so that you can bet less on one number while betting more on another. The rules of roulette are straightforward, and you will know how everything works in no time. Many casinos have roulette free games that you can practice on before you start playing with real money.
Where to play roulette online
The internet revolutionised gambling, and today you can enjoy thousands of exciting slots and table games from the comfort of your home. If you are mainly interested in playing table games such as roulette, you'll want to find a UK casino that has a great selection of table games, while also providing quick support and a great website. At Bestcasino.com, we have collected some of the best online casino UK sites the internet has to offer, and we have created a list of the things that you should look for when searching for a casino that satisfies all your roulette requirements. Whenever you come across a new casino, you can use these guidelines to determine if the site is worth playing at or not:
Selection of roulette games: If roulette is your game, you'll obviously want to play at a UK casino that is packed with fantastic roulette games. There are hundreds of great sites to choose from, depending on which variations and stakes you prefer. Take a look at the casino lobby and see if there is a dedicated roulette section. The best roulette casinos have multiple variations such as VIP roulette, speed roulette, American roulette and many others. The maximum betting limits can vary a lot from casino to casino, so if you are a true high roller, you'll want to play at a site that lets you bet as much as you want.
Welcome bonus: Nearly every online casino has a welcome bonus that players can claim on their first deposit. The bonus will give you more for your money, as you'll be equipped with a bigger starting balance. It is important to note that not every casino lets you play table games such as roulette with bonus money. You should always check the terms and conditions before playing roulette with a bonus to see if it's restricted or not. If you don't care for slots and only want to play roulette, the best option might be to skip taking the welcome bonus entirely if it doesn't allow you to play on roulette. Some casinos have dedicated table game welcome bonuses that you can play roulette with.
Live casino: Most online roulette players prefer to play live casino roulette these days, as the authentic casino setting offers a more immersive experience. If you are among those players, you should head over to the casino's live casino lobby to see if there are enough tables for live roulette. The quality and availability of the games can vary a lot from site to site, as every live casino is powered by third-party providers. We will come back to live casino roulette a bit later in this guide.
Mobile casino: Don't miss out on any of the roulette wheel action when you're on the go by choosing a good mobile casino. Although virtually every casino is equipped with an excellent mobile website these days, there are still some sites that are lacking good roulette games and live casino games.
License: The best UK online casinos are licensed by the UK Gambling Commission. Make sure to check that the casino you're looking at has a UKGC license before registering an account, as this ensures that you are playing at a reliable site that you will pay out your winnings if you hit big at the roulette table. The license information can usually be found in the footer section of the website.
Customer support: The best online casinos have customer support that is available via live chat, email or phone 24 hours a day. If you have any questions or experience technical difficulties while playing roulette, you should be able to get in touch with a support agent quickly. Sites with great support are usually quicker when it comes to processing withdrawals which means that you won't have to wait for days until you get your roulette winnings.
Play against real roulette dealers online
Live casino games have become the preferred way of playing roulette for most gamblers, as nothing beats the excitement of playing in an authentic casino setting. In live roulette, all the action takes place in a live studio with a professional croupier handling a real roulette wheel, and you can follow the ball as it rolls down the wheel in real-time. At most online casinos, you will find a wide variety of thrilling roulette games and tables that are open 24/7, 365 days a year.
Live casinos manage to capture the atmosphere of a real casino by streaming everything that takes place at the tables in full HD to the player. Just as in a brick and mortar casino, professional dealers are dealing the cards and spinning the roulette wheel. You can chat with the dealer and the other players by using the in-game chat, something that adds an extra layer of fun to the experience. Although the roulette game is live, you still have all the betting tools of online roulette at your disposal. The main difference is that since other players play on the same table, you have a limited amount of time to bet before the game stops taking bets and the croupier spins the ball. This can be a bit tricky if you are planning to bet on many numbers, as you need to act quick before the game goes on without you having placed all your chips. Luckily, the live casino software lets you repeat bets between each round, and some of them have powerful tools such as an autoplay feature.
Although there are several providers of live table games, Evolution Gaming and NetEnt Live are the most common ones. These studios have perfected the live roulette formula, and both of them have several tables available at all times. Evolution Gaming's Immersive Roulette table brings you even closer to the game, and some tables are even live streaming the roulette tables from famous casinos around the world. Once you have found a table that is suitable for your playing style, you just have to open it to start playing instantly. Make sure that you look at the betting limits for the table, as there different tables for each limit. If you are a high roller, you can take a seat at a VIP table where you sometimes can play for thousands of pounds per round.
If you are looking for a completely new roulette experience, we recommend checking out Evolution Gaming's Lightning Roulette. This is a roulette game unlike any other, and it truly lives up to its electric name. Between one and five random numbers light up on the big screen behind the croupier, and multipliers of between 50x and 500x are added to the numbers. If you bet on a lightning number and the ball lands on it, the boosted prize is yours. A single bet of £1 on one number can suddenly turn into £500 if you predict the correct outcome. This is a more volatile version of standard roulette, as a win on an individual number without a multiplier only pays 30 to 1 instead of 36 to 1. This is to make up for the jackpot numbers with extra prizes. Lightning Roulette to the online gambling world by storm when it was released in 2018, and you can try it out for yourself at any live casino that has Evolution Gaming games.
Roulette strategies and randomness
Unlike blackjack and poker games that have an element of skill to them, roulette is a luck-based game. Each spin on the roulette table is entirely random, and it's impossible to predict the outcome of the next round. UK casinos are required to follow strict rules about randomness, and all of their table games and slots are based on random number generations (RNG). The random number generator ensures that every spin is random and play out individually from all the previous spins. We know that it sometimes feels like there is a pattern, but the truth is that when the ball lands on a red number five times in a row, there is still a fifty-fifty chance of it happening again in the next spin.
Because of the randomness, there are no roulette strategies that can increase your edge against the casino. However, by betting strategically, you can adjust the stake according to your balance. If you want to go for a huge win, you can place most of your chips on a few individual numbers. But if you want to play it a bit safer, you can stick to sections such as red and black or even and odd, or you can bet on more individual numbers to increase the chances of winning on one of them. You should be careful about covering too many numbers, however: it is possible to reach a tipping point where a win doesn't pay out much more than you bet, and a loss gets way more expensive. When playing roulette, it's all about having fun and following your gut feeling!
Roulette on the go – play anytime, anywhere
Our phones have changed the way we gamble, and many of us enjoy playing when we're on the go or just slumped on the couch with the iPad in our lap. Roulette is just as exciting on a small phone screen as on a bigger monitor, and the variety of mobile roulette games is just as wide. However, there are a few things you need to keep in mind before playing your favourite table game while you are waiting on the bus or when you have some downtime during work. Not every mobile online casino UK is as good as they should be, and it all comes down to a few things that need to be in place.
The selection of casino games on mobile casinos has caught up with the desktop versions, with most slots and other games being available on phones these days. The same is generally true for roulette, but you should check the lobby before committing to a specific mobile casino. At some mobile sites, you won't find certain versions of roulette games – especially if you like a lesser known version from a smaller provider. However, if you're looking for plain computer roulette, you will most likely be able to play it anywhere you go. It is the most popular casino game in the world, after all, so no mobile casino would be complete without it.
Nearly all smartphones today are powerful enough to run live casino games without any issue, which means that you can play fantastic live games from Evolution Gaming or NetEnt Live on your phone. Mobile live games didn't exist for quite a long time, as many of the phones half a decade ago weren't good enough to handle them. As long as you have an Android phone or iPhone that is not older than 3-5 years, you should be able to run any live casino roulette game without encountering any issues or annoying lag. Remember that in live roulette, there is a limited time to act and place bets before the round starts – so if you have a very slow phone, you might not be able to place the chips down before the timer runs out. Live games are also draining the phone's battery much faster than classic casino games, which is something to have in mind if you're planning on playing for a long time but need your phone for something else.
In order to play live games, you also need a decent internet connection. Nearly anywhere you go has 4G or at least 3G these days, which should be enough to experience the video streaming without lag or quality loss. If you suddenly lose the connection while playing live games, you might not be able to place the bet before the round begins. This isn't really a problem with computer roulette, as the game won't start before you click the spin button, and you can easily re-load the game to continue where you left off. If you are on an unstable connection, you might be better off by sticking to classic computer roulette.
Many casinos have developed their own apps to complement the mobile experience. While the apps generally are identical to the mobile sites, they let you get to the action a bit faster as you can open the casino with a single press from the home screen of your phone. Casino apps can be downloaded for free from the iOS app store or Google play market. If you're not interested in downloading an app, you can still enjoy your favourite mobile games by using a popular browser such as Safari or Chrome. If you want to learn more about mobile gambling, you can check out our extensive mobile casino guide.
Roulette conclusion
Roulette is one of those casino games that is going to be around forever. The concept of the game has been around for centuries, and the modern version of it has been loved across Europe and the United States since the 19th century. If you visit a real brick and mortar casino in Las Vegas, Macau, London, or anywhere else, you will find never-ending rows of tables where the wheel is spinning 24 hours a day.
So what makes roulette so iconic and beloved? The simple answer is that it's a game with an infinite number of outcomes and possibilities, and the players have complete freedom to bet on whatever they like. Every seasoned gambler has a strategy that they rarely stray away from. Some like to go big and place huge bets on their lucky numbers, while others want to tune down the risk and put their chips on more numbers or sections that are more likely to hit. Roulette is the perfect high roller game, as it's possible to bet big and take down enormous prizes. A win on an individual number pays 36 to 1, which can amount to a great stack of chips depending on how big the bet was. However, it's also thrilling for those who enjoy sticking to smaller stakes – you don't have to put in a lot of money to get a lot of gambling entertainment from roulette. Since the game has such a high RTP you can keep hitting and winning several times in a row, making your playing balance stay healthy for a longer period.
Roulette is a numbers game, and the outcome of each individual spin is completely random. It can sometimes seem like there is a pattern, but such is the nature of casino games like roulette. There are no systems that one can use that works over time; the casino will always have a slight edge over the player in the end. However, that doesn't mean that it's important to know the basics of the game and how to play in a way that works out the best for you. As we stated earlier, a win on an individual number is worth 36 to 1 times the money placed. Because of the zero, there are 37 numbers on the roulette wheel, which means that you get slightly lower odds than your chances of hitting your number. The wheel is made out of half red, black, odd and even numbers, but the green zero is none of them – so if you bet on red and the zero drops in, it's a losing spin just as if a black number hits. You should always try to stick to French roulette that has only one green zero instead of playing at American roulette tables that has two zeros. The RTP of American roulette is much lower than the French version.
There are several versions of online roulette, and it can be a good idea to check out a few of them to see what you like playing the best. If you want a traditional and pure roulette experience, you can play classic computer roulette. In these games, it's you against the computer. The outcome of each round is determined by a Random Number Generator (RNG) which ensures that the casinos are fair. Licensed UK casinos are required to implement RNGs, which makes it impossible to "fix" the games in any way. This is just as true for table games such as roulette and blackjack as it is for slots and other games. Note that many casinos have different tables for different stakes, so you should find a table that fits your betting level. Some VIP roulette tables require players to bet a minimum of £1 or £2 per individual number, which can become expensive in the long run if it's not suitable for your gambling budget. Always stick to the betting size that you are comfortable with.
For a more immersive experience, you can give live casino roulette a go. In live roulette, you play against real professional croupiers who have gone through a lot of training before serving the table. The most prominent live games providers are Evolution Gaming and NetEnt Live, and both of these companies offer a wide range of special roulette games. Whether you like Immersive Roulette or the exciting Lightning Roulette, the tables are open 24 hours a day, 365 days a year. Since everyone plays on the same table, you don't need to wait for a long time before you can play – just wait for the current round to finish, and place your bet once the croupier announces that the next round has begun. Playing live roulette is easy, and there are several tools in place to let you customise your experience.