House edge in casino games
When you play at UK casino online, it's always interesting to know the house advantage in the games. This is also more commonly known as the house edge. You've probably heard of RTP, which stands for Return to Player. The RTP gives you an indication of how much the theoretical payback is to players. By knowing the advantage of the house, you will also know which games are most beneficial to play. At some casinos, there are lists of what the theoretical or actual payout is for certain games, which can be worth checking out. The game's RTP is measured over a long period, which means it's not completely accurate for the payout in a single gaming session. Since everything happens randomly in the game, there can be more losses or winnings in a single session than the percentage of the theoretical RTP. The outcome is always random and controlled by an RNG, Random Number Generator.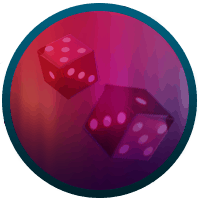 Even though the games might be of the same type, the RTP can be different between games. For example, slots can have an RTP of about 88% to almost 100%. Another good example is Blackjack, where the RTP of American Blackjack is essentially higher than European Blackjack. Playing according to different strategies can also affect the outcome and the RTP. The same goes with the rules at that certain table and how many decks are used.
In this article, we will check out some popular casino games and the house's advantage for these games.
Video Poker
Video Poker and Blackjack are two game types with a very high RTP for players and a low house edge. If you search for video poker machines with the best pay tables and play the games correctly according to strategies, the RTP can get to just over 100%. You should always check out the pay tables as they can vary. For example, a full pay table at Jacks or Better pays out 9/6, which means 9 times the bet for Full House and 6 times the bet for Flush. The pay table can also vary in other video poker games such as Deuces Wild and Double Bonus. When playing video poker there are basic and optimal strategies you can use. They tell you the number of cards you should draw depending on your poker hand. By following these strategies, you can theoretically increase your chances of winning.
Blackjack
As we mentioned, Blackjack is also known for the low house edge. As you probably know, this game is all about getting as close to the number 21 as possible by hit cards or stop. The goal is to beat the dealer without exceeding 21. In Blackjack, the house edge depends on the rules of the games, for example, if the dealer needs to stop or hit on 17. There are also strategies which we recommend you to follow. Following a basic strategy, you can generally reduce the house edge to less than 1%. If you play at a land-based casino, you also have an advantage if learning how to count cards, especially if a low number of card decks are used. You should look for tables where only one deck is used because these are often the most beneficial.
Roulette
Roulette is a popular table game that you can expect to find in all live casinos. In Roulette, there are different house edge depending if you are playing at a table with a single zero and double zero. For example, when you're playing European Single Zero Roulette the house edge is 2.7% and when you're playing American Double Zero Roulette the house edge is 5.26%. Therefore, you should only play at tables with a single zero.
Slots
Slot machines have a huge variety in RTP. There are thousands of slots out there provided from different game developers. For example, the jackpot game Mega Moolah from Microgaming has an RTP of 88.1%, while Mega Joker from NetEnt has a theoretical RTP of between 85.28% and 99.00%. Another well-known slot with a high payout percentage is Blood Suckers from NetEnt with an RTP of 98%. The slot machine 1429 Uncharted Seas from Thunderkick can also be recommended because of its high theoretical payout percentage of 98.6%. You might find more slots with even higher RTP if you search a little at your favorite casino, as the above are just a few examples that are easy to find at UK casinos online.
Baccarat
Baccarat is also a popular table game and perhaps most famous for high stakes. The advantage of the house depends on kind of bet you do in Baccarat, as you bet on whether the player wins, the bank wins or if it's a tie. The house edge for a bet on the bank is 1.06%, for a bet on the player it's 1.24% and for a tie, it's 14.36%. The odds for the payouts differ. For example, a winning bet on the player pays out even money, while a winning bet on the bank also pays out even money, minus 5% commission which outweighs the bank's advantage. Most casinos pay 8:1 for a winning bet on a tie.